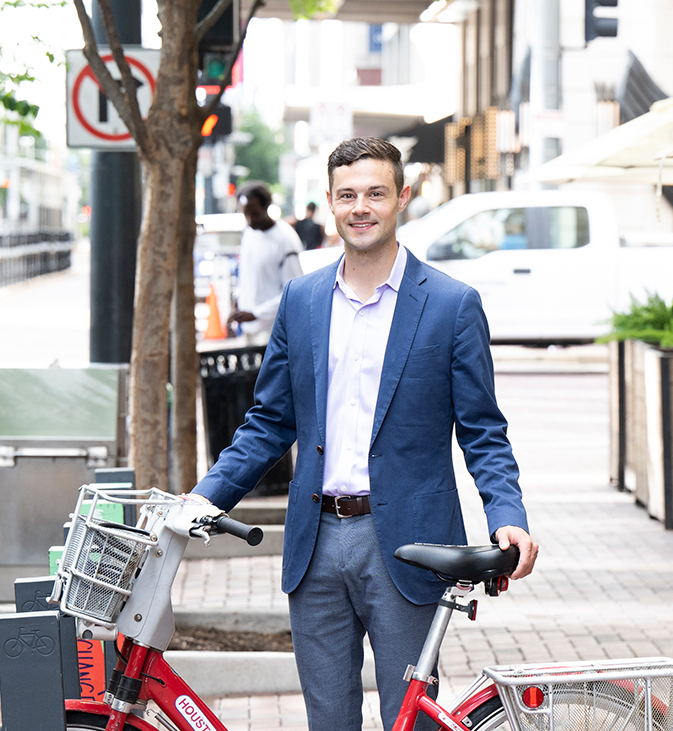 As a Principal at TEI, James' transportation planning and engineering experience has focused on transit network planning, bicycle infrastructure planning, sidewalk design, and Geographic Information Systems (GIS). James has extensive knowledge of transit operations and planning. He also specializes in the planning and design of bicycle and pedestrian projects, especially in conjunction with transit. He graduated from Rice University with a B.S. and a Master of Civil Engineering. James also serves as a director on the boards of Houston Bike Share and the Midtown Management District.
More than familiar with the theories underpinning design for active transportation modes, James lives them every day. Since moving to Houston in 2008 James chooses to rely on walking, biking, and transit for his daily transportation rather than a personal vehicle. His passion for creating great streets and liberating transit is energized by his daily experiences moving around Houston.
The other way James likes to get out and enjoy both the built and natural environment is by running. Once a college track and cross country athlete, he now keeps in shape to run recreationally. James also loves to travel (by bus and train, of course) and work on projects around the house. He chose his home in Midtown for the abundance of walking, biking, and transit access to life's daily needs and delights.