TEI developed a comprehensive Transportation Plan for Precinct 1, a 375 square mile area of Harris County, Texas, which includes major activity centers like Downtown Houston and the Texas Medical Center, and a range of historic and new neighborhoods. Still growing, this diverse and dynamic jurisdiction has significant and varied transportation needs.
TEI conducted a detailed assessment of existing conditions and opportunities. Based on this assessment of needs, the team worked with County staff and other stakeholders to define goals of the plan, including:
Prioritize active modes of transportation – walking and biking – with a focus on connecting people to jobs, educational opportunities, parks, and transit.
Improve safety for people traveling by all modes.

 

Identify high-mobility corridors that will improve access to important destinations for the greatest number of people.
Primarily look at major thoroughfares, especially in the unincorporated areas of the County, but also consider neighborhood streets where they can provide multi-modal connectivity to other places.
Consider both cities and unincorporated areas, and identify partners where jurisdictions coincide.
The plan proposed 30 active transportation corridors and prioritized five of these for near-term implementation. It also identified 60 street and intersection projects to better connect people to destinations and strengthen the network. TEI developed planning level cost estimates and implementation strategies for potential projects, and identified potential funding partners.
The plan also identified policy and programmatic approaches to address transportation needs such as better data collection to improve decision making, sidewalk policies to support the large number of people who walk and use transit, and safety approaches to address high-crash locations.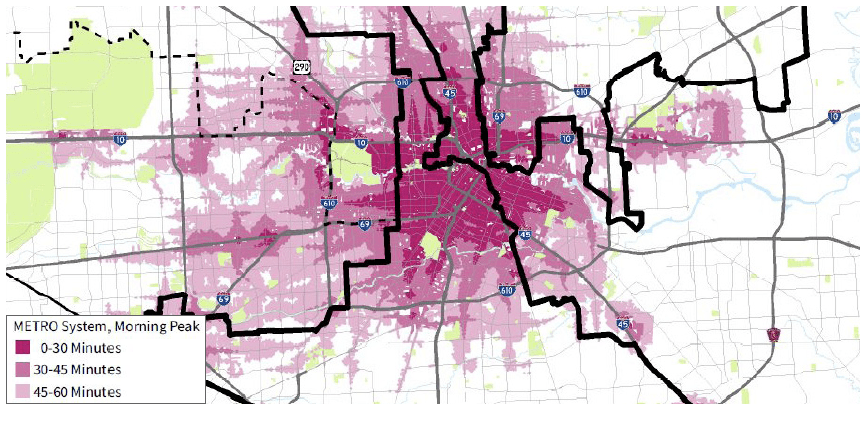 Transit access
This isochron map, overlaid with the boundaries of Harris County Precinct One, shows how far transit riders can go during the AM peak.